News Articles
November 8, 2021
Sapona Plastics, which is based in Randolph County, has completed a buyout of its founding partner's interest and is now 100 percent owned by JBDJ, LLC.
The management team of Sapona Plastics will remain essentially unchanged except for president Dean Lail, who will assume the CEO role from his father Jack C. Lail, who will continue as chairman. Kathryn Baker has been promoted to chief financial officer. The acquisition was facilitated by the company's long-time primary lender, First Horizon Bank.
In addition, Sapona Plastics plans to expand operations by adding injection molding operations at plant 2 in Seagrove and more than 20 jobs in the coming year.
"The workers of Sapona Plastics, along with our suppliers and community, are growing together to provide an essential service to a diverse base of manufacturing customers across the United States," said Dean Lail.
Sapona Plastics produces plastic items and assemblies for various markets, including telecom, housewares, HVAC, industrial and consumer packaging. The company has 23 injection molding machines, 120 employees and two plants in Randolph County.
Sapona Manufacturing and JBDJ, LLC established Sapona Plastics as a joint venture in 2004. Over the past few years, Sapona Manufacturing Co. Inc. has been divesting assets including its yarn manufacturing operation in Cedar Falls, North Carolina, which is now owned by Universal Fiber Systems and is continuing there as Sapona Yarns.
Sapona Manufacturing is expected to only continue to exist long enough to finalize the liquidation. JBDJ, LLC is a family real estate holding company founded by Jack C. Lail and will continue to lease facilities to Sapona Plastics.
The manufacturing company has had a 105-year history in Randolph County under the current owners and was originally founded in 1836. The plastics side of the business began in 1971 by Jack Lail.
"We are extremely thankful for the guidance and financing Sapona Manufacturing has provided to help Sapona Plastics get started and grow," said Dean Lail. "Now that the investment has been fulfilled, Sapona Plastics is positioned to continue its path of investment and growth into the future. In part, the legacy of Sapona Manufacturing will continue on through Sapona Plastics."
More info can be found at https://www.saponaplastics.com/
Source: The Courier Tribune
---
November 4, 2021
RCEDC Celebrates Industry Appreciation Month in October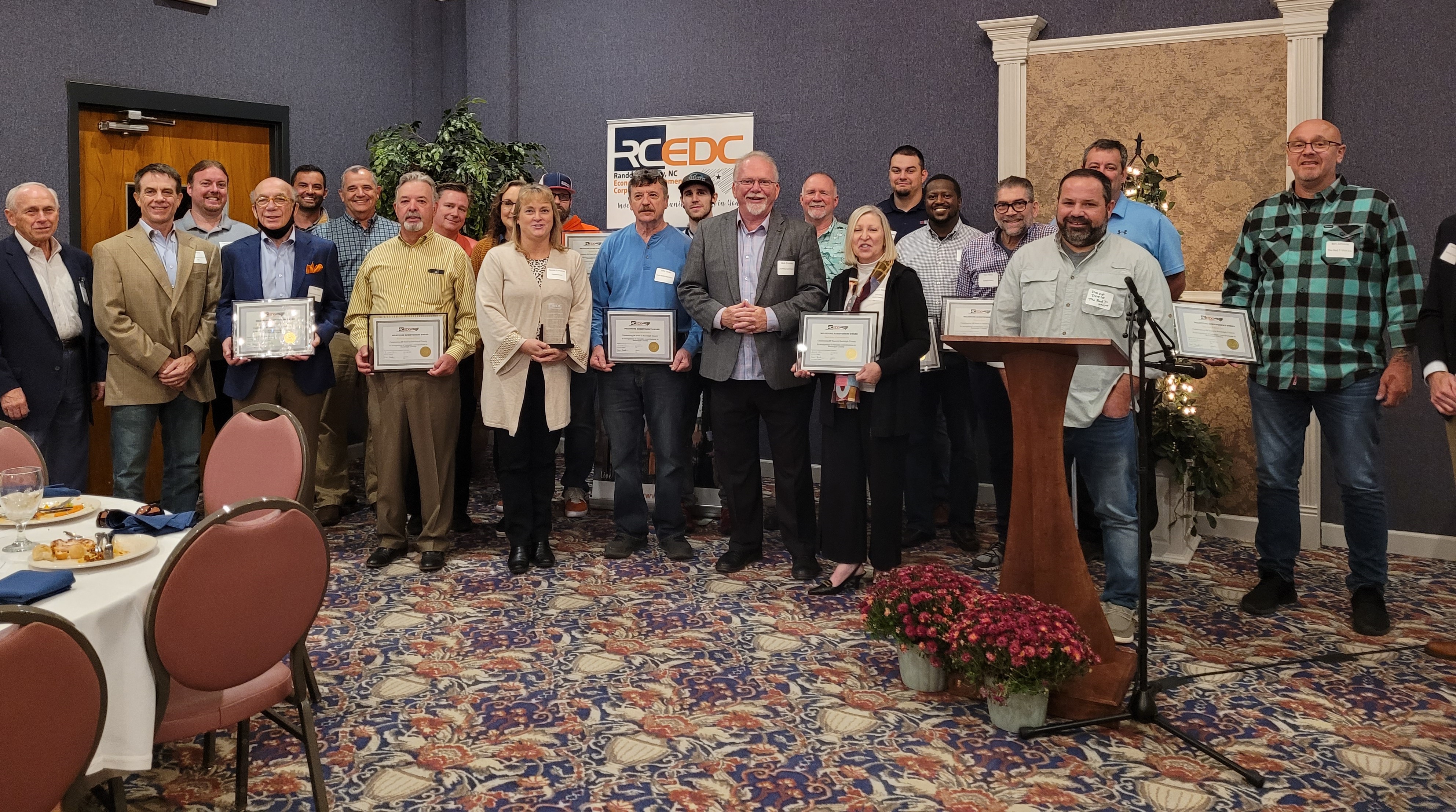 Randolph County, NC – The Randolph County Economic Development Corporation (RCEDC) devoted the entire month of October to celebrating industry across Randolph County. Manufacturing, along with related warehousing and distribution operations, has long been a hallmark of the Randolph County economy, and supporting our industry base is an essential part of the EDC's work. Established industrial companies create the majority of new jobs in the community each year and are the largest taxpayers in the county, helping to improve the quality of life for all citizens of Randolph County.
Nationally, Manufacturing Day is celebrated annually on the first Friday of October. Rather than focusing on a single day, the RCEDC wanted to extend that to a month-long celebration that included not just manufacturing, but related warehousing and distribution facilities. "Randolph County has a rich industrial heritage, and we think it's important to publicly recognize the positive impact that our local industry base has on our community," stated Kevin Franklin, president of the RCEDC. "These companies create jobs, support families, reinvest in their facilities, and give back to the community. They make Randolph County a better place, and that's something worth celebrating."
To kick off the celebration, the Randolph County Board of Commissioners, in its October 4 meeting, declared October to be Industry Appreciation Month in Randolph County. During the week of October 11, RCEDC sponsored tours of three local manufacturers: Jowat Corporation, a manufacturer of industrial adhesives with North America headquarters in Trinity; G-Force South, an Asheboro-based manufacturer of transmissions and drive trains for the racing industry; and Ultracraft, a manufacturer of cabinets with operations in Liberty.
On October 21, RCEDC sponsored its first annual Forklift Rodeo event hosted by Hughes Furniture in Randleman. Twelve drivers representing companies across Randolph County competed for 1st, 2nd, and 3rd place trophies and bragging rights. Daniel Coble with Metals USA drove away with first place followed by Desmond Sims with Dart Container in second and Jeff Bowman with General Insulation in third. All drivers received gift bags filled with items donated by Randolph County industries.
The month-long celebration ended with an Industry Appreciation Luncheon hosted by RCEDC on October 28. At the luncheon RCEDC recognized fifty companies celebrating a five-year milestone of operations in Randolph County; Nelson Frames and Wright Global Graphics tied for the greatest number of years, each with 55. The companies celebrating milestones represented over 1,400 combined years of operations and more than 1,500 jobs.
The highlight of the Industry Appreciation Luncheon, and the culmination of the month-long celebration, was the presentation of the first annual "RCEDC Outstanding Industry Award." Applications were reviewed based on positive community impact, community involvement, business performance, and standard of conduct. The 2021 RCEDC Outstanding Industry Award was presented to Technimark in recognition of its commitment to, and positive impact on, Randolph County.
The Randolph County Economic Development Corporation is a non-profit organization that works with industrial clients in the county. The EDC's mission is to support a growing healthy economy so that local residents have diverse quality job opportunities through the attraction of new businesses to the area and the retention and expansion of existing business and industry.
---