Commuters Welcome!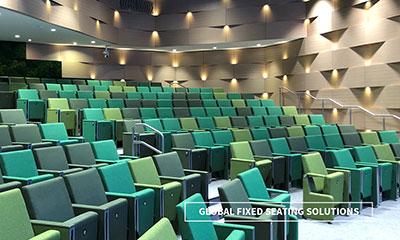 In November 2020, Sedia Systems, a global manufacturer of lecture hall and auditorium seating, acquired property and began renovations on a 60,000-square-foot facility to consolidate its manufacturing here in Randolph County.
Our proximity to High Point makes us a magnet for such employers that bring furniture manufacturing positions, along with management jobs, to the county. But also, it's our workforce and business environment.
Sedia CEO Wilson Troup told The Business Journal: "The resources and the skill sets are tailored to upholstery assembly. The supply for some of our main items is sourced locally. We just see a willingness to support and develop business there, and that was something that I experienced with the economic development team in Randolph County. Everyone we've talked to has been very supportive of our business."
This bodes well for the type of jobs and long-term careers that are assets to the county's growth.
Randolph County Economic Development Corporation is actively working to bring business here through direct recruitment and by making the county "easy to do business with." Sedia is just one employer here that will continue to make Randolph County a destination for workers across the spectrum of skills and experience.
"The Randolph County job market is strong, particularly in the manufacturing sectors," says RCEDC president Kevin Franklin. "Many employers were hiring pre-pandemic, and opportunities are again plentiful following a brief pandemic-induced lull."
Recruiting success

The county has been steadily successful in attracting and retaining job-creating companies with a favorable business climate and a local ready workforce.
In addition to Sedia Sytems, we recently welcomed MG Art Products, a new company, which will soon be manufacturing art supplies out of their facility in Trinity.
"We're going to need commuters," says Franklin. "Even with a healthy pool of local talent, many of our businesses are also recruiting beyond the county line."
Franklin sees this as way of growing the population with skilled labor, who might commute here first, but eventually decide to buy homes.
To achieve this, RCEDC supports job growth in two key ways.
First, we work hard to promote a business-friendly environment by serving as a guide, partner, and problem solver for the industrial community that calls Randolph County home. When we support our existing employer base, they are more likely to grow and thrive right where they are, generating organic job growth.
Second, our office has a business attraction program focused on bringing new employers, along with jobs and investment, to our community. New employers diversify the local economy, add new jobs, and generate new taxable investment which helps maintain a lower property tax rate for everyone.
When an employer prospect identifies Randolph County as a suitable location, we work hard to overcome obstacles, ensure a smooth process, and let them know that we'll be invested in them for the long-term.
Overall, right now, the county's job opportunities cover a variety of industry sectors and pay ranges, from legacy manufacturing sectors such as furniture and textiles to advanced manufacturing sectors such as metals/machining, plastics, food processing, and printing.
Not only is there variety by industry sector, there is also a wide range of job options based on experience and skill set. This includes entry-level positions with opportunities to grow. Legacy jobs like highly skilled upholsterer, tool & die maker and injection molder are still in demand in Randolph County. And all of this industry also needs salaried management professionals.
To help support this continuing development strategy to attract workers as well as business The Randolph County Economic Development Corporation will be posting and promoting job openings for our stakeholders on this page. If you're an EDC Partnership member that's hiring, send us your information. If you'd like to learn more about becoming a Partnership member, let us know. If you're looking for a new career opportunity, check this page regularly.